Lviv startup has launched the latest ERP platform, created based on the Belgian platform Odoo (odoo.com)
by Oleh Denys, Chairman of the Supervisory Board of B.JET ERP (bjetpro.com) *
Ukraine's tech industry is growing rapidly, working conditions are changing, as well as challenges, requiring high-quality management decisions from C-level on a daily basis. Adequate and convenient management, financial accounting, and analytics are needed for solutions appropriate to the situation. And here, unfortunately, companies face the same problem – they have to work with obsolete tools that require too much time, effort, and people.
This pain is sharp and common. So, it is not surprising that at one time talks about the possibility of developing new management and financial accounting system for Ukraine began on the site of Lviv IT Cluster. This idea has found support among top managers of leading Ukrainian tech companies, financiers, and management experts. It marked the beginning of several years of systematic work on the product for the Ukrainian market.
Thus, the BJet ERP startup was born – the embodiment of the best expertise from market professionals and managers, who joined the work on the project at different stages of its implementation.
Idea and collaboration with Odoo
The key BJet idea is to build a program kit that easily adapts to the needs of a particular enterprise and allows entrepreneurs to see their business online. Modular product development is based on open source and SaaS cloud technologies. The product should not be bulky, requiring many consultants or engineers. It should be flexible and open to customization, and therefore – 100% useful for business and its scaling in view of fast growth and flexible settings to modern changes of business conditions and environment.
In 2019, cooperation with the Belgian company Odoo and OCA community of developers began. Odoo is one of the world's leading developers of ERP platforms. Odoo solutions have an open architecture, which means that users can add, customize, or extend existing solutions to their business needs. Today, the Odoo community has more than 3,500 partners, more than 7 million users worldwide, and tens of thousands of independent tech professionals creating new modules on the platform and developing it. This allows moving away from the stereotypes of other ERP systems: the need to keep in the staff of system developers and administrators and the IT segment of the server infrastructure with all the overhead costs to maintain their performance.
Odoo ERP consistently ranks high in the international ERP systems rankings. Thus, in the ranking of Finances Online (reviews for business), Odoo is in 8th place out of 433 considered systems and is ahead of such leaders as Oracle ERP Cloud, Microsoft Dynamics GP, and ERP in Cloud.
In Ukraine, BJet also works closely with the non-profit organization OCA Ukraine, a local representative of The Odoo Community Association OCA.
Which companies need B.Jet ERP
The emergence of the need for such a modern ERP platform as BJet, is, in fact, a matter of growing a company out of the short pants of a small business to the middle level. As well as its scaling and fast reconfiguration of processes and functional modules to automate processes to the level of a large enterprise in one ERP information platform. Usually, as soon as a tech company develops to a level where two or three dozen employees are not enough to finish projects and resource planning and automation of production processes, its management begins to accumulate a list of questions, the answers to which require too much time and effort. What is the actual situation of the enterprise? Where can I see how much I can spend and what working capital to count on? What do we have with current works and orders? Who are all these people and what am I paying them for? Where is my money? How to measure our success? Why can't anyone tell me where our income is? What is our budget?
Based on their expertise and numerous interviews with company management, BJet analysts have previously modeled the main business processes in Ukrainian companies. Here is a typical example of this work: to calculate the profitability of only one project they had to use 7 Excel spreadsheets, 5 programs, 5 employees together. And this is just one project. And what if there are 5 of them? What if the number of projects grows up to 20? What if there are more than 50 of them?
The conclusion is obvious: an average Ukrainian company spends a lot of resources on management and financial reporting on the operating activities of the enterprise. In addition, information is often distorted as it moves up and between systems and services, and during manual processing.
Have you already been noticing all this in your company? Ok, then the latest BJet ERP platform is something that will provide you with answers to these above-mentioned important questions quickly, in the most convenient form, from any place with an internet connection or mobile access, and at any time of the day.
The bright future of company management is here
BJet ERP is a cloud service, where revenues, expenses, and many other indicators are displayed 24/7 at the choice of the company's management. The platform automatically monitors contracts and payments and generates the received information into necessary and convenient reports and dashboards. It allows you to view current analytics in two clicks: you can get P&L, Cashflow, and Balance Sheet.
BJet ERP is a cloud service, where revenues, expenses, and many other indicators are displayed 24/7 at the choice of the company's management. BJet ERP platform creates a single unified reporting system for all processes in the company. You can model and compile business plans based on real figures, creating versions inside the system and working inside with variables. After installing the system, C-level will forget the words "how many days do we need to build a model or check profitability".
The system easily grows with the company, adapting to changing business processes, and offering all the best that has been invented in the field of accounting by hundreds of developers.
Based on Odoo standards, BJet ERP provides a high level of reliability and security.
Hosting and security are on BJet or Azure/AWS servers, at the client's choice. It will be provided in accordance with the international standard ISO 27001 with data encryption from the field level to the entire database and administration with the help of a local administrator of each enterprise tenant.
If you have any questions at any stage of use, the support service provides free help.
How tech companies can benefit
Despite the fact that today BJet has integrated solutions for several industries and their number will continue to grow, the solution for tech was our priority from the very beginning. So, let's look at the opportunities that a tech company user gets from BJet ERP.
Convenient managerial accounting from BJet ERP provides a vision of the online management structure and data aggregation of several companies. As well as multi-level analytics, analytical accounts, group labels and cost elements, cost centers, and budgeting. Typical tech reports and dashboards are already in the system, and at the same time – report and dashboard kits, if the users want to change everything in their own way.
With the Project Management and Accounting unit, you can manage projects, plan milestones, delegate tasks to the team, track progress, plan resources, bill customers, and analyze costs and profits on projects and employees.
CRM in BJet ERP allows you to easily plan and track activities with customers at all stages. At the service of users there are extended price lists, automatic invoicing of customers with details of services provided, control of payments and debts. And to work with potential customers, CRM can create campaigns, send automatically generated emails, and appoint a seller. It is possible to analyze the reasons for the loss of potential covenants and increase sales efficiency.
The Purchase and Vendor Management unit allows you to manage suppliers and purchase orders, and automate the procurement process for even more efficient work. Contracts, purchase orders, control of payments and debts – all this at hand in one automated system.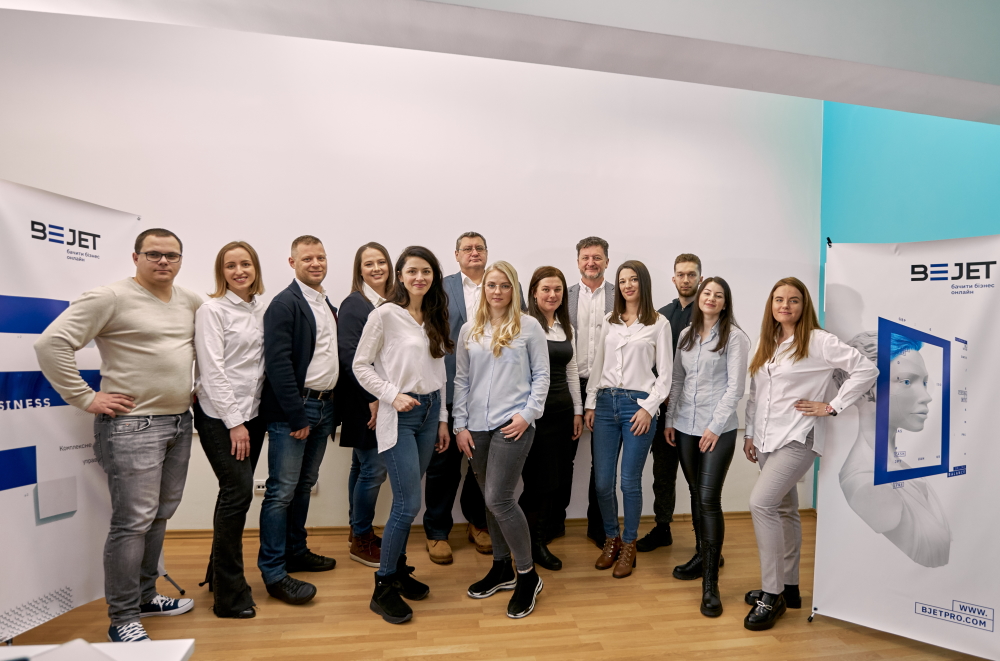 BJet ERP functionality includes the HRMS unit, which potential tech industry clients are the most often interested in from the start. HRMS modules help to automate the basic functions of personnel management, keep personnel records, calculate salaries, effectively make management decisions, and provide information needs of the company.
Companies that actively train employees themselves will like the personnel Learning Management System integrated into BJet ERP. The LMS application allows you to create a corporate academy to train employees.
The unit "Payroll and Timesheets" is very relevant for tech companies. It allows you to log time worked or integrate the system with third-party services, flexibly adjust the structures and rules for calculating wages, and distribute salaries by projects. Options of managing absences, expenses, in particular on business trips are also included. There are different types of settlements with employees such as advances and loans, different types of allowances and deductions.
Accounting in BJet is easy to set up and keep several legal entities. Accounting is built on the principle of double-entry, where each business transaction is displayed twice, on the debit of one account and on the credit of another.
BJet already has a setup scheme of standard taxes for Ukraine, and you can add new ones. There is a multicurrency option as well. It is possible to create logs for accounting records: customer accounts, supplier accounts, bank, exchange rate difference, goods, payroll, and others. It is also possible to configure the model to import a bank statement in XML, XLS, DBF, or CSV format.
It is important to mention the convenient integration tools of the BJet ERP platform with such a popular timekeeping and scheduling system as Jira. Convenient work with import and export from/to Excel spreadsheets, which solves almost any issues of integration with other systems and data migration in addition to direct API integrations with most popular systems on the market. And so, it reduces the pain of switching from one system to another at a minimal cost.
If despite the rich content of the ERP platform, the tech company has additional needs, we will develop individual modules, customize existing ones or install additional Odoo resources.
Summing up
Plan. Control. Predict. With BJet ERP you will have all relevant for this moment information in super convenient reports and dashboards. At any time of day or night. From anywhere in the world.
* The first publication of the article – ITID Lviv